Thinking of putting in an outdoor kitchen?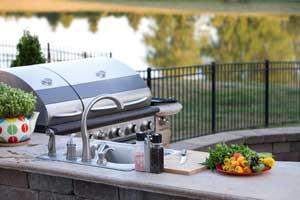 If you love cooking and love the outdoors, why not do both at once? You could buy a large barbecue grill and cook steaks and burgers on it, but what if you want to relax with a cold beer too? While you can go in and out of the house repeatedly, not only is it inconvenient, but you can compromise the indoor climate you've worked so hard on keeping steady. Instead, outdoor kitchens make a great practical option for your home in Paradise Valley. At Desert Environments, we'll help you put in that kitchen and make it look as good or even better than you hoped for!
What is an outdoor kitchen? An outdoor kitchen is a way to expand your living space and have a seamless transition between the indoors and outdoors. While often focused around a premium grill, there are several options and cooking styles including stovetops and even ovens. An outdoor kitchen isn't a practical option in every kind of climate, but works great in warmer, drier regions such as Paradise Valley.
---
Take advantage of the great outdoors!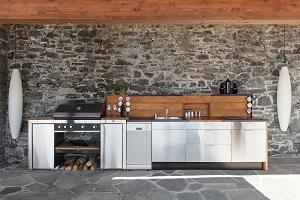 While interior kitchens can handle many aspects of cooking, there are some appliances that are dangerous or don't work well inside. An outside kitchen can have several unique properties, such as:
Grills and barbecues that won't work indoors can operate as intended outside, creating that perfect taste that can't be imitated
Pizza ovens and brick ovens can require very high heats to function properly that can be too dangerous to use indoors.
If you're missing out on gas stovetops due to not having a natural gas line, you can use them outside using propane instead!
---
What kind of outdoor kitchen design would you like?
When it comes to creating a cooking and eating area outdoors, design is key. Just like inside, a well-designed kitchen works not only as a cooking area, but as a focal point where people naturally gather. We can help you create a bbq kitchen that matches the style of patio furniture, but outdoors, you have even more options. With a combination of landscaping and outdoor lighting, we can work to create a backyard that will be the envy of the block. Enjoy those warm Paradise Valley summer nights by cooking in your new kitchen while sitting out and enjoying a new pond or fountain, and you'll be hard-pressed to go back inside! We also provide our landscaping services like pools, outdoor kitchens, and water features in Phoenix and Scottsdale!
---
Call or contact us today to put in your outdoor kitchen!
Our versatile landscape contractor services and installations won't be beat by anyone in the area!