Why Choose Us?
Customizable Service
Desert Environments is a landscaping company specializing in installing custom in-ground pools, outdoor lighting, and much more.
Licensed & Bonded
We are completely licensed and bonded to perform landscaping services for the greater Phoenix area.
Dependability
We take pride in the work we do. Each project is finished on time and on budget.
Warrantied Services
We are a team of professionals who add guaranteed value to Arizona homes and businesses.
Consultations
Contact us today to set up a consultation for one of our many services.
Positive Reputation
Operating for over 25 years, we've earned a reputation for quality service and beautiful work.
---
Bring
Outdoor Spaces to Life with One of Scottsdale's Leading Landscapers
To the untrained eye, Scottsdale, Arizona's environment appears harsh and neglectful of vegetation. And though it's true that our climate is selective about what it nourishes, it merely takes the right local landscaping professional to install and tame unruly yards, transforming them into areas that flourish in the urban desert environment.
Desert Environments is more than just a landscaping service. Our tightly-knit team of professionals brings talent and expertise to every project; transforming uninspired outdoor settings into places where Scottsdale residents want to gather, play, and entertain. 
By looking at details beyond simple aesthetics, we create intentional spaces with every element thoughtfully placed. From outdoor lighting, barbecues, fireplaces, walkways, rockscapes, pools, and water features, we bring functionality and beauty together in a way that reflects your lifestyle and vision.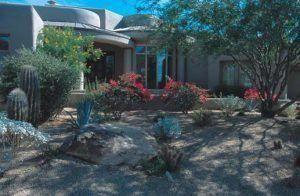 ---
How do we transform outdoor spaces?
Countless details go into the planning stages of residential landscaping. That's why your project manager takes the time to meet with you and talk about your existing ideas. Because we've been doing business in Scottsdale for over 25 years, we know how to ask the right questions, and when to ask them.
---
Upgrading 
Your Lawn or Entertainment Space
Your complete satisfaction is built into everything we install. And for your peace of mind, all of our services are warrantied. For additional assurance, we maintain an open and consistent line of communication with you during the process. Your project manager is available for you to ask questions and provide feedback so, along the way, you're getting what you expected or better.
Working with local suppliers, we deliver on our promise to make your private landscape into one that welcomes and inspires.
---
Our landscapers provide:
Desert-appropriate landscaping
Desert and tropical plant selection
Low maintenance irrigation systems
Plant beds and containers
---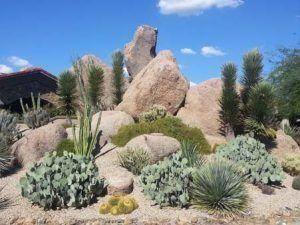 Our
Handle-With-Care Philosophy Adds Rare Value to Your Outdoor Space
Elevating the art of landscaping service requires experience and dedication. And at Desert Environments, we have both in spades.
Contact us today to gain insight into how to build an outdoor space that works for you. Maybe that means a simple cleanup of overgrown plants and new mulch. Or maybe it means installing luxuries such as outdoor kitchens and surround sound systems.
Whatever great landscaping means to you, we help you achieve it.