Why Choose Us?
Customizable Service
Desert Environments is a landscaping company specializing in installing custom in-ground pools, outdoor lighting, and much more.
Licensed & Bonded
We are completely licensed and bonded to perform landscaping services for the greater Phoenix area.
Dependability
We take pride in the work we do. Each project is finished on time and on budget.
Warrantied Services
We are a team of professionals who add guaranteed value to Arizona homes and businesses.
Consultations
Contact us today to set up a consultation for one of our many services.
Positive Reputation
Operating for over 25 years, we've earned a reputation for quality service and beautiful work.
---
Bring
Outdoor Spaces to Life with One of Scottsdale's Leading Landscapers
To the untrained eye, Scottsdale, Arizona's environment appears harsh and neglectful of vegetation. And though it's true that our climate is selective about what it nourishes, it merely takes the right local landscaping professional to install and tame unruly yards, transforming them into areas that flourish in the urban desert environment.
Desert Environments is more than just a landscaping service. Our tightly-knit team of professionals brings talent and expertise to every project; transforming uninspired outdoor settings into places where Scottsdale residents want to gather, play, and entertain. 
By looking at details beyond simple aesthetics, we create intentional spaces with every element thoughtfully placed. From outdoor lighting, barbecues, fireplaces, walkways, rockscapes, pools, and water features, we bring functionality and beauty together in a way that reflects your lifestyle and vision.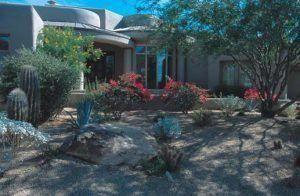 ---
How do we transform outdoor spaces?
Countless details go into the planning stages of residential landscaping. That's why your project manager takes the time to meet with you and talk about your existing ideas. Because we've been doing business in Scottsdale for over 25 years, we know how to ask the right questions, and when to ask them.
---
Upgrading 
Your Lawn or Entertainment Space
Your complete satisfaction is built into everything we install. And for your peace of mind, all of our services are warrantied. For additional assurance, we maintain an open and consistent line of communication with you during the process. Your project manager is available for you to ask questions and provide feedback so, along the way, you're getting what you expected or better.
Working with local suppliers, we deliver on our promise to make your private landscape into one that welcomes and inspires.
---
Our landscapers provide:
Desert-appropriate landscaping
Desert and tropical plant selection
Low maintenance irrigation systems
Plant beds and containers
---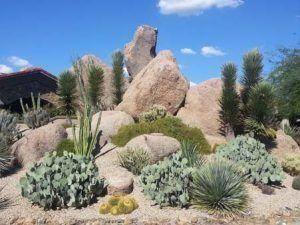 Our
Handle-With-Care Philosophy Adds Rare Value to Your Outdoor Space
Elevating the art of landscaping service requires experience and dedication. And at Desert Environments, we have both in spades.
Contact us today to gain insight into how to build an outdoor space that works for you. Maybe that means a simple cleanup of overgrown plants and new mulch. Or maybe it means installing luxuries such as outdoor kitchens and surround sound systems.
Whatever great landscaping means to you, we help you achieve it.
Desert Environments
Frequently Asked Questions About Landscaping:
What is the difference between softscape and hardscape?
Softscape refers to the living elements of a landscape, such as plants, trees, and flowers. Hardscape refers to non-living, man-made elements like patios, pathways, fences, and retaining walls.
How do I choose the right plants for my landscape?
When selecting plants for your landscape, consider factors such as climate, soil conditions, sun exposure, maintenance requirements, and your personal preferences. Native plants are often a good choice as they are adapted to the local environment.
What are the key elements of landscape design?
The key elements of landscape design include plants (trees, shrubs, flowers), hardscape features (patios, walkways, decks), water features, lighting, and outdoor structures (pergolas, gazebos).
Take a look at our Portfolio page to see some of the projects we have done!
Desert Environments Is Proud To Be Locally-Owned And Operated
Nestled in the heart of Scottsdale, Desert Environments is your trusted, locally-owned landscaping company that understands the unique allure of the desert landscape. With a deep-rooted passion for preserving and enhancing the natural beauty of Arizona's desert terrain, our team brings creativity and expertise to every project.
Just as Pinnacle Peak Park stands as a prominent symbol of Scottsdale's rugged charm, Desert Environments aims to reflect this natural wonder in our landscape designs. We specialize in creating outdoor spaces that seamlessly blend with the majestic backdrop of the Sonoran Desert, turning your backyard into an oasis.
Drawing inspiration from the architectural marvel that is Taliesin West, our team of experts incorporates Frank Lloyd Wright's principles of harmony between human habitation and the natural world. We believe in designs that not only respect the environment but also celebrate it, allowing your property to coexist harmoniously with the desert ecosystem.
And when it comes to the whimsical allure of Butterfly Wonderland, Desert Environments is committed to infusing your landscape with the same sense of wonder and enchantment. Our attention to detail ensures that your outdoor space becomes a sanctuary for both you and the local flora and fauna.
At Desert Environments, we take pride in our deep ties to Scottsdale's rich culture and natural beauty. We are here to transform your outdoor living space into a work of art that pays homage to local attractions like Pinnacle Peak Park, Taliesin West, and Butterfly Wonderland. Let us turn your landscape dreams into a reality that mirrors the magic of our beloved Scottsdale, Arizona. Directions To Desert Environments
Your Search For An Experienced Landscaper Near Me Is Over
Based right here in the heart of Scottsdale, Desert Environments is your trusted, locally-owned landscaping company, offering a wide spectrum of services tailored to the unique needs of our desert oasis. With a focus on enhancing outdoor spaces, our dedicated team brings expertise, creativity, and a strong connection to the community.
Nestled near the Thomas Rd & Scottsdale Rd bus stop, we understand the importance of accessibility. That's why we offer a comprehensive range of services, starting with top-notch Landscape Service. Whether it's regular maintenance, irrigation solutions, or hardscape installation, we've got your landscape needs covered.
Our Landscape Design services are like a canvas for the desert's natural beauty. Drawing inspiration from the surrounding Scottsdale Transportation Department and the stunning Scottsdale Rd & McKellips Rd locale, we create designs that harmonize with the local environment. Every project is a masterpiece that blends form and function seamlessly.
And when it's time to gather outdoors, our Custom Barbecues are the perfect addition to your landscape. Crafted with precision and a dash of Southwestern flair, our custom barbecue installations turn your backyard into a culinary haven.
At Desert Environments, we're not just about landscaping; we're about enhancing how you live in Scottsdale. Located near key bus stops and deeply rooted in our community, we're here to transform your outdoor spaces into havens of beauty and functionality. Trust us to make your landscape dreams come true right here in the heart of Scottsdale, Arizona. Transit Directions To Desert Environments
We Work In Many Neighborhoods Throughout Scottsdale, AZ, Including:
85254 85032 85260 85054 85028 85288 85253 85258 85050 85022 85020 85250 85024 85016 85023 85271 85267 85261 85252 85018 85259 85255 85251 85029 
Check Out Some Of Our Reviews From Local Customers!
"I can't say enough good things about Mike and his company! We bought a second home in Arizona and the house came with ZERO landscape front and back. We we referred to Desert Environments by a neighbor here in Washington that also had a house in Arizona built and he was very happy. I called Mike and met with him to come up with a complete design. He quickly emailed me a design which was fantastic, we agreed and he gave me a timeline and finished when he said he would. They also did lighting and irrigation. His crew did a fantastic job from start to finish! I highly recommend Desert Environments. I have attached a few photos of his work. Thanks again Mike!" -Eric M.
Read More Reviews Here
"Desert Environments did EXCELLENT job in my backyard. Mike is a great designer and customer oriented business owner. It was a pleasure to work with him and his crew. Would strongly recommend him!" -zel s.
"Desert Environments Landscape has definitely surpassed my expectations with the job completed on my yard. I am very impressed with the quality of work provided by Mike Kiesler and his crew. I will deffinatly be referring Desert Environments to my family and friends!!" -Amber S.
Read More Reviews Here
Our Team Proudly Offers A Wide Range Of Landscaping Services, Including:
Custom Barbecues
Custom Pools
Landscaping
Landscape Service
Landscape Contractor
Landscape Design
Outdoor Fireplace
Outdoor Kitchens
Outdoor Lighting
Rocks, Boulders, Granite Landscape
Rockscapes
Water Features
About Scottsdale, AZ
Nestled in the picturesque Sonoran Desert, Scottsdale is a vibrant gem of the American Southwest. Known for its unique blend of natural beauty, rich culture, and modern luxury, this city embodies the essence of Arizona living.
One of Scottsdale's most defining features is its stunning desert landscape. Towering saguaro cacti, rugged mountains, and fiery sunsets create a breathtaking backdrop that's unlike any other. The McDowell Sonoran Preserve, a sprawling desert playground, offers hiking and exploration opportunities amid this enchanting terrain.
But Scottsdale is not just a haven for nature enthusiasts; it's a hub of cultural experiences. The city boasts a thriving arts scene with the Scottsdale Museum of Contemporary Art and the annual Scottsdale Arts Festival. Taliesin West, designed by legendary architect Frank Lloyd Wright, is a testament to innovative architecture blending seamlessly with the desert environment.
In Old Town Scottsdale, the Wild West meets modern luxury. Explore the charming streets filled with boutiques, art galleries, and world-class dining establishments. This historic district exudes a rustic charm that transports visitors back in time.
Scottsdale's commitment to recreation is evident in its numerous golf courses, renowned spas, and upscale resorts like the Phoenician and the Scottsdale Princess. The city's warm, sunny climate ensures outdoor activities year-round, from horseback riding to hot air ballooning.
As night falls, Scottsdale's nightlife comes alive, with a vibrant bar and restaurant scene catering to every taste. From sipping cocktails at rooftop lounges to dancing the night away in stylish clubs, there's no shortage of entertainment options.
In Scottsdale, the fusion of desert beauty, cultural richness, and contemporary living creates an enchanting experience that beckons visitors and captivates residents alike. This desert oasis is where the old world meets the new, where nature's majesty mingles with modern sophistication, making Scottsdale an unparalleled destination in the American Southwest.
Directions To Desert Environments