Searching
for outdoor fireplaces in Scottsdale?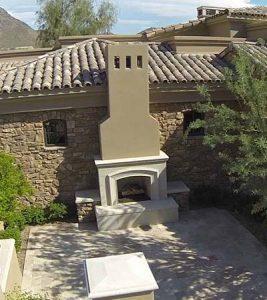 Do you love the feel and look of a fireplace but don't want to be cooped inside? Do you wish you sit outside but not feel the chill of cool nights? At times like these, an indoor fireplace doesn't cut it.  Fortunately, you can have the feel of fresh air combined with the great functionality of a fireplace with the help of Desert Environments.  We'll work with you to create a custom outdoor fireplace in Scottsdale for your outdoor space. We will integrate the design of your fireplace and sitting area into the custom landscape to create a harmonious balance between nature and architecture.
Will it be under budget? The only way a landscape company can know how much an addition will cost is by coming out to see it. We'll come to your place for a free estimate, so you'll know exactly what you're working with
---
Have a particular style in mind?
Desert Environments can create any kind of fireplace you desire. Special stone hearths are available in many different configurations. Some common styles we work with include: 

Kiva Fireplaces


Also known as "Beehive fireplaces", this traditional style has the heat focused at the bottom.


River Rock Fireplaces


With the option of genuine river rocks or "clones", these provide a great natural look.


Stone Hearths


Whatever kind of hearth you're looking for, we can make it work just how you want!


Fire Pits


If you prefer a fire pit to a fireplace, we'll find the best location for your yard.

---
Choose our local landscape company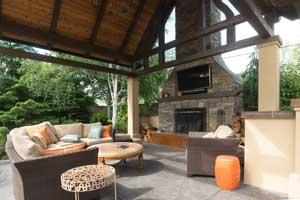 With over 25 years of experience, we've been around long enough to know what we're doing. Focusing our efforts in the community we live and work in, we do our best to make it even better. Our landscapers have a keen eye and know how to make your house look great. Maybe adding some outdoor lighting will make your home pop. Or maybe adding a few rocks or some granite can make a huge difference. We work along with you to create that custom look you're searching for. So don't wait! Give us a call or contact us today!