Custom Pools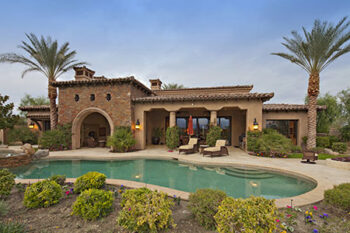 For some Scottsdale residents, the summer can be a thing of nightmares. Spending all day indoors to avoid the scorching heat is no way to enjoy the summer. A swimming pool is an excellent way to stay cool during the hottest parts of the year. At Desert Environments, our team of expert landscapers has the skill and experience to install a variety of pools that will not only keep you and your family cool but will also complement your Scottsdale landscaping.
Having a swimming pool in Scottsdale has more benefits to it than one might think. Not only do you always have a place to relax and stay cool, but having a pool near your property helps to keep the surrounding area cooler. Swimming pools work like large, natural air conditioners, creating a perfect spot where the whole family will want to hang out. Our team installs much more than swimming pools. At Desert Environments, you can have your entire yard landscaped. We work directly with you to build outdoor kitchens, fireplaces, and more. Let us create your desert oasis!
Variety of Pool Styles
Our team of landscapers installs more than your standard in-ground pool. We work with you and the layout of your property to find the perfect pool style that will best meet your needs and complement your home. We offer all of the following pools:
Custom Pools
Curved Pools
Fountain Pools
Infinity Edge Pools
Waterfall Pools
Hot Tubs
Pool design
Pool installation
And much more!
If you want something to complement your pool, add a few accessories, like a gorgeous water fountain or some accent night lighting.
Add a Pool, Add Equity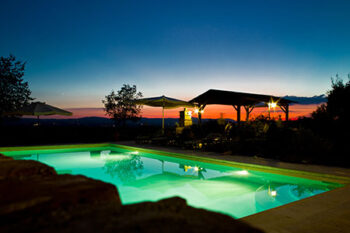 Just like with most other home upgrades, installing a pool can increase the value of your home, adding to your home's equity. Having a pool will also make it a lot easier if you decide to sell your house later on down the road. As most homes in Scottsdale have pools, it can be a challenge to sell without one. A custom swimming pool is an investment that not only looks beautiful but is useful all year long. Working directly with our landscapers, you'll have the backyard of your dreams in no time!
There are many factors to consider when installing a custom swimming pool — size and shape are the most important. Our team members have the skills and experience to utilize the maximum amount of space. You might also consider getting a hot tub for the wintertime. Arizona still gets cold during winter nights. And what's better than enjoying a chilly night soaking in your warm hot tub? This brings us to another point: outdoor lighting. A late-night swim won't be fun if you can't see where you're going. At Desert Environments, we know how to install the perfect amount of lighting that provides adequate visibility while still maintaining a level of privacy — thus creating the ideal backyard oasis.
Scottsdale Resident's Choice For Custom Pools
With over 25 years of experience, the team here at Desert Environments can provide you with a professionally built pool. Our custom pools come with industry-standard warranties. They are installed using the highest quality materials. We can design and build just about any size and shape of pool you can imagine. We guarantee our work for your peace of mind! Call or contact us today to get started.
---