The gentle lapping of water, the warmth of the sun on your skin, and the refreshing coolness of a dip on a hot day – there's nothing quite like a backyard pool to bring joy and an afternoon of relaxation to your life. But with so many pool designs to choose from, how do you know which one will make the biggest splash in your outdoor oasis? Whether you want a tranquil retreat for lounging or a fun-filled haven for family and friends, we've rounded up the best and most innovative pool designs to help you dive in and make a splash in your backyard.
Work with Tiles
Get the most out of your next backyard pool experience! Give your average swimming pool an elegant twist by adding stunning tiles to the design, such as adding blue tile to get that gorgeous blue pool look. You'll instantly add beauty, depth and character that stands out!
Build a Fountain in Your Pool
Whatever your pool style is, water features can add a beautiful finishing touch. Imagine the elegant sparkle from a water fountain or being able to admire the light effects of accent night lighting around your pool in the evening – it gives you a whole new level of luxury and elegance to enjoy.
Incorporate Landscaping Around Your Pool
The landscaping gives your pool an even more organic look. A strategically planted garden of trees, bushes and flowers can further complement this tranquil aesthetic. Selecting plants of different shapes, textures, and colors creates visual interest that can both soften and define the landscape around your pool. Consider thoughtful landscaping for creating a truly serene and stunning view in your backyard retreat!
Go for a Waterfall Pool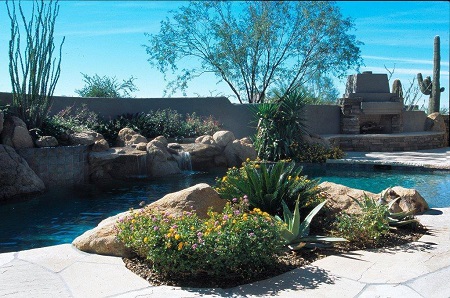 A skillfully crafted waterfall adds life – literally and figuratively – to any swimming pool area. Whether you opt for an infinity-edge feature or cascading rocks surrounded by lush foliage, the sight and sound of running water from a waterfall is sure to create a calming atmosphere around your pool. Some designs incorporate lighting to further enhance their beauty in the evenings, while others come equipped with special features like slides or fountains that add an element of playfulness. Customizable building materials mean you can craft a design as unique as its surroundings.
Consider Your Deck Look
Having a peaceful poolside experience is an idyllic way to spend summer days, but why not take it to the next level? With the addition of a beautiful deck attached to your pool and home, you can easily create a seamless and stylish outdoor oasis. Not only will a deck provide that perfect spot for friends and family to gather and linger in the evening, but it will also add an unrestricted area for quiet morning coffees, fun party pool adventures, or lively afternoon BBQs – all near the calm of your pool.
Embed a Baja Shelf in the Shallow End
The cleverly designed edging and shape blend of a baja shelf melts seamlessly into the surrounding entertaining space while also offering an extra long shallow end that can be used by small children, as well as those looking to cool off with poolside relaxation without getting wet up to their necks. It's the perfect way to relax and make the most of your outdoor area in style.
Design a Mini Bar Area By Your Pool
Outdoor bars can add a special touch to your pool-adjacent backyard without having to invest in a full-blown kitchen or built-in elements. Simple touches like bright colors or an accent piece can help to turn this prepping station into an inviting spot for any poolside gathering, creating the perfect environment for plenty of family fun and to enjoy long summer days in style.
Choose Your Pool Shape Wisely
When designing a custom pool, you'll have a lot of freedom to get creative. Instead of the traditional square or kidney-shaped pools, step outside of the box and consider shapes that work best for your backyard. The possibilities are endless, from L's and Grecian ovals to lagoon shapes and figure eights! Expert advice from professionals in this area can help you create something truly one of a kind that adds a unique touch to your outdoor space.
Build a Fence Around Your Pool for Privacy
Fencing in your swimming pool area can be an incredibly rewarding experience and bring a sense of security to your outdoor living space. Whether you decide upon a minimalist fence or go for a more traditional stone wall option, fencing is an excellent way to maintain necessary privacy and also guarantee safety for your pool area.
Go For an Infinity Edge Pool or Stacking Effects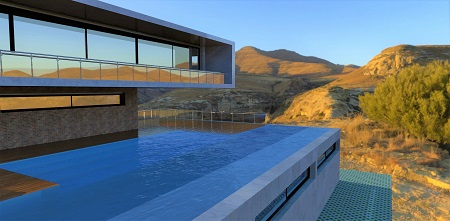 Infinity pools are turning backyard dreams into a reality, allowing you to enjoy the feeling of luxury every day. Why settle for just one when you can build several levels stacked together and integrated into the landscape? The infinity design also allows you to maximize views by getting more of those magnificent views around your home. Plus, who could resist such an epic backdrop for their Instagram pictures? With the hot tub and swimming pool divided by raised infinity pools and connected bridges, there are endless possibilities when it comes to making your backyard feel like a personal vacation or family vacation escape.
Complement Your Homes Style
When designing a pool for your home, it's important to consider how it will work with the style of your house. Consider shapes that are in harmony with your architectural style – for example, a rectangle if you have a modern home, and an oval or free-form shape if your house has more traditional lines and curves. Additionally, choose materials and colors which create the desired effect – glass tiles can give a contemporary feel, while natural stone adds texture and warmth. Landscaping can be used to provide further integration between pool and landscape, ensuring the two elements of your backyard complement each other seamlessly.
Bring in a Hot Tub Addition
Nothing can beat the luxury of a private hot tub experience in your own backyard. Installing a separate area for this purpose creates an intimate and tranquil retreat—perfect for spending quality time with family and friends or simply unwinding after a long day. To make the experience even more indulgent, you can consider customizing it with massage jets, a built-in waterfall, specialty lighting, underwater lighting, or other opulent features.
Add Greenery or Hedges for Privacy
Adding greenery or hedges around your pool helps create a feeling of seclusion while providing an attractive backdrop for all of your gatherings. Hedges are perfect for adding variety and fullness to any area, so you can be creative by picking different varieties at varying heights.
Desert Environments Builds Customized In-Ground Pools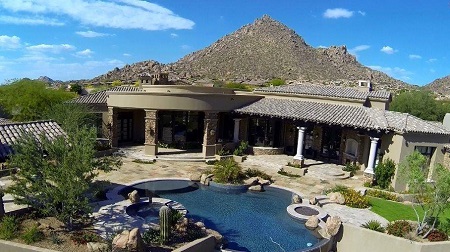 Beat the summer heat with an in-ground swimming pool designed and installed by the experts at Desert Environments! Our team of experienced landscapers has been providing clients in Scottsdale, AZ with stunning in-ground pools for more than 25 years. In addition to keeping you cool on even the hottest days, a custom pool will also add value and beauty to your outdoor landscape. When choosing us for your installation of a beautiful backyard pool, you can rest assured knowing that only industry-standard materials are used – each one backed by our warranty that guarantees our work. From natural-looking designs to bold and unique shapes and sizes, we're equipped to build whatever your imagination desires! So don't sweat it this summer – give us a call or reach out online today to get started on your own home oasis from many beautiful pool choices to choose from!
Some pool types we design:
Complete pool customization

Curved Pools

Fountain Pools

Waterfall Pools

Infinity Edge Pools

Hot Tubs
Visit our About Us page for more information about our company.