Landscaping for Phoenix Homes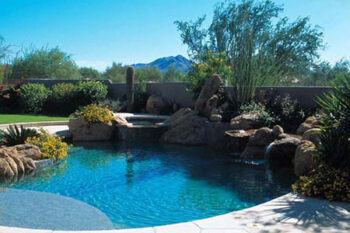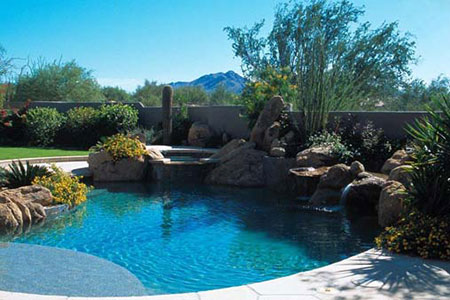 Living in Phoenix gives homeowners the advantage to be outside throughout the entire year. With this opportunity, your lawn should be an oasis tailored to your likes and lifestyle. Creating an outdoor living space that will thrive throughout the winter and summer is what the professionals at Desert Environments do! With a team of experienced landscapers that know which plants grow best in the Arizona heat, your yard is guaranteed to look amazing! Not to mention all the customized hardscapes that we also build, like outdoor kitchens, pools, and more.
Our team works directly with you to build the landscape design of your dreams! From plants to pools, fireplaces to bar-b-que's Desert Environments will create it all. We provide Phoenix homeowners with a back-yard paradise all year long. Let us create your desert oasis!
Native Landscape Designs
When most people think of Phoenix, they think of sand, cacti, and scorching hot temperatures. And while these are true for large regions of Arizona, it doesn't have to be true for your backyard. There are many native trees, shrubs, and other plants that can bring a lot of color to your landscape, year-round. From vibrant coral penstemon(perennial) to delicate desert bluebells(annual) and even gorgeous primrose jasmine(vines) our landscapers know what to plant to make your home stand out. While most other states deal with rain and snow many months out of the year, Arizona has pure sunshine for the majority of the year. Using native plants in your landscape design is a great way to add color and greenery without trying to keep your grass alive.
When it comes to the actual design of your landscaping, it is best to match your outdoor space with the style of your home. For example, if your house has that Southwestern design to it, with wrought iron and colorful tiles, your yard should be an extension of this. Lately, it is becoming more and more popular to go tropical when designing Phoenix landscaping. Planting palm trees and building pools can make you feel like you're on a beach rather than in a desert. Both modern and traditional landscaping designs are beautiful, and our team at Desert Environments has years of experience building and designing both.
Your Custom Landscaping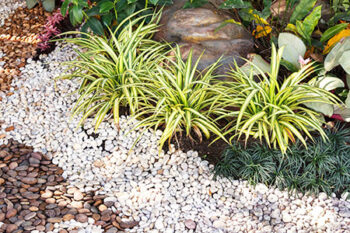 Every Phoenix homeowner landscapes differently. Some like the Mexico-influenced designs and others like the more modern style. Your yard should be an extension of your home, not a vacant land that no one in the home ventures to. Our team works with you to create a beautiful outdoor living space that the whole family will enjoy. Not just by planting flowers and trees but building kitchens, fireplaces, and pools. Having your yard landscaped by professionals allows you to upgrade your home without all the heavy construction. Our team utilizes the space available and the design elements at our disposal to maximize your lawn and create an entirely new space.
Whatever ideas you have in mind, our team is ready to bring it to life. Even though you might see your backyard as a vacant lot, we see it as a blank canvas. And our team can turn it into something you wouldn't even believe. Call Desert Environments today for a free consultation with one of our experienced contractors and start building your outdoor getaway today. We also provide other services including rockscapes, outdoor kitchens, and water features.
---