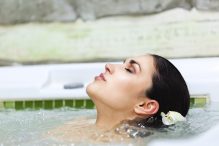 What goes better next to your outdoor kitchen than a relaxing hot tub or Jacuzzi? When it comes to luxury outdoor living, a hot tub in Scottsdale is a given. Imagine one placed within arms reach of your outdoor bar. There is nothing like enjoying a chilled beverage while soaking your muscles in hot bubbling water. There are plenty of late evenings in Scottsdale with a chill in the air, just asking for a hot soak after a long day. Adding a hot tub to your backyard landscape design can easily make for your new favorite way to relax and de-stress. Not only that, there are also a slew of health benefits to soaking in a hot tub.
Hot Tub Health Advantages
Everyone is familiar with the idea that stress eats away at a person's health. Those high levels of cortisol have been linked to just about every catastrophic diagnosis out there. Finding ways to manage stress can seem difficult in a fast-paced world. The CDC includes "Give yourself a break if you feel stressed out—for example, treat yourself to a therapeutic massage" as a suggestion for a self-care tip that decreases stress. But what if you don't have time for a massage? Having a hot tub in your Scottsdale yard has similar effects,—and you don't have to go anywhere to get them. A hot tub or Jacuzzi is a form of hydro massage. A hot tub has many heath benefits.
Health benefits of hot tubs:
Improves Circulation – The heat and swirling of the water causes blood vessels to dilate which improves circulation.
Decreases Arthritis Pain – This increase in the circulation eases joint stiffness and pain by bringing blood and oxygen to the joints sites.
Increases Relaxation Response – Mental relaxation is induced with the warm, soothing environment of a hot tub. That brings down tension and levels of cortisol.
Insomnia – This relaxation response can go a long way in aiding natural sleeping patterns if a nice hot tub soak is taken before bedtime.
Custom Hot Tub
Hot tubs have so much to offer and they can easily be customized to fit into your landscaping theme. Add in a little outdoor mood lighting, the soothing effects of a water feature, and maybe a pool to cool off in, and you have a recipe for real outdoor luxury living! In fact, your entire outdoor space can be designed to reduce stress.
If you have questions about how a hot tub can be customized to fit your landscaping, talk to one of our landscape contractors today. Contact us at Desert Environments for your free estimate.