Custom Landscape Design that Works with the Environment & Your Lifestyle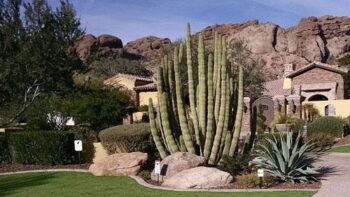 Landscape design is all about personalization. Whether you have a sprawling estate or small side yard, landscaping can turn it into your own private oasis. There are so many things to consider. Would water features look right? What about low-water xeriscaping? Is there a certain aesthetic you've always pictured? At Desert Environments, we specialize in designing landscapes that are tailored to you.
---
What do you want from your landscape?
If you can dream it, we can design it. We'll work with you to integrate your ideas into a blueprint. From there we can further customize the materials and plant species we use in various places, as well as electrical and gas powered features. There are some common themes we frequently work with, so consider the following options: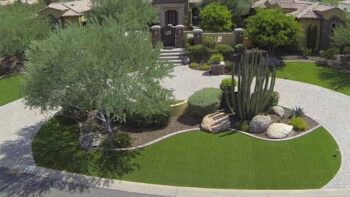 Lounge focused landscaping: These designs frequently integrate bathing areas, outdoor sitting areas, and more. We can install televisions, surround sound systems, and provide you with indoor luxuries and comforts while you enjoy the great outdoors.
Entertainment focused landscaping: Entertainers love to bring family and friends together. We can install fire pits, fountains, barbecues, and other major focal points that help you enjoy company while providing a centralized point for gathering.
Nature focused landscaping: Whether it's installation of an automatic watering system for your favorite native and non-native plant species or desert focused xeriscaping, we make it beautiful. We work with the natural flows of the environment and can integrate areas for gardening and vegetable growth.
---
We Help Develop Great Ideas for Outdoor Spaces
As local experts, we understand the Arizona desert. We know what grows best and where, how to account for the hottest time of day, and how to create a landscape design that works in dry environments. As your landscape design company, we'll create a landscape that you'll enjoy for years to come. Let's get started.
---