We Want You to Love Your Landscaping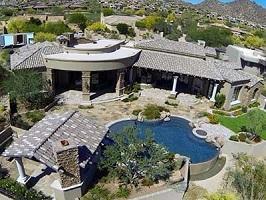 When it comes to custom landscaping in Scottsdale, there's no better landscape design company around than Desert Environments. We understand every aspect of lawn design and maintenance and guarantee to find the right fit for your home.
Understanding the climate and aesthetic of Arizona is part of what sets us apart. And we love helping homeowners choose hardscaping features and vegetation that makes sense here. When you choose a landscaping company that specializes in creating desert environments, you get to create a space that won't deteriorate in harsh conditions.
And we work our hardest to offer the leading services for landscaping anywhere around. Your house is something that you should be proud of. That's why we work with you to make your home a beautiful place you will be proud to show off for years to come.
---
What Does Desert Environments Do Differently?
Our landscaping company takes your custom designs and builds landscape architecture that is dedicated to the fulfillment of our customers. Landscaping your Scottsdale home does so many wonderful things for you; it increases your property's value and living space while improving your quality of life. Create a unique place that you can call your own and share with friends and family.
Our landscape contractors will work closely with you to determine the look and feel you want, keeping you in the loop with regular updates during the process. 
Do we charge for consultations? At Desert Environments, we want to make sure you're comfortable with us and our work. That's why we offer free consultations. We want to give you time to feel like you're making the right choice.
---
Customized landscaping services
With over 25 years of experience, we're prepared for any of your landscaping questions. Some of the services we specialize in include:

Desert-appropriate landscaping
Low-maintenance irrigation systems
Desert and tropical plant selection
Water features and fountains
Select rock and boulder placement
Custom fireplaces and barbecues
Flagstone and decorative masonry
Low-voltage lighting systems
---
Common Landscaping Questions
What is landscaping, and what does it involve?
Landscaping is the process of modifying and improving outdoor spaces, including gardens, lawns, and other outdoor areas. It involves tasks like planting, trimming, and maintaining vegetation, as well as installing hardscaping features like walkways, patios, and outdoor lighting.
How much does landscaping cost?
The cost of landscaping can vary widely depending on the size of the area to be landscaped, the types of plants and materials used, and the complexity of the project.
What are some common landscaping mistakes to avoid?
Some common landscaping mistakes include over-planting, using plants that are not suited to the local climate or soil conditions, failing to plan for drainage issues, and not considering how the landscape will look over time as plants grow and mature. Contact Us Today For A Free Estimate. We can help you avoid these and other common mistakes.
How can I make my landscape more sustainable?
There are many ways to make your landscape more sustainable, including using native plants that require less water and maintenance, installing a rain garden or other water catchment system, using organic or natural fertilizers, and minimizing the use of pesticides and other chemicals. Contact us today, and we can help you create a sustainable and environmentally friendly landscape design.
How can I maintain my landscape once it's installed?
Maintaining your landscape involves regular tasks like watering, fertilizing, pruning, and mowing. It's important to keep an eye out for pests and diseases that can damage your plants and to address any issues promptly. Maintenance services can help ensure that your landscape stays healthy and beautiful for years to come.
---
Let us Bring Our Craft to Your Outdoor Space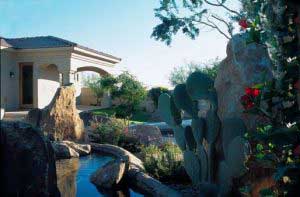 We will create an environment that is just right for you and your home. Our excellence and experience have been proven through the gratitude of our long list of satisfied customers and an A+ rating from the Better Business Bureau. Let us show you why our performance is unsurpassed when it comes to landscaping Scottsdale homes.
Call or contact us today and let us create the outdoor living space that you'll love for years.