Beautiful Gardens Can Thrive in the Desert with the Help of a Great Local Landscape Service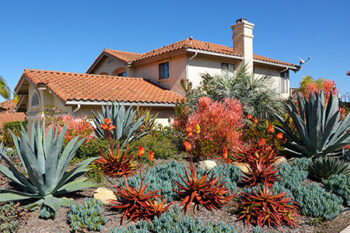 The Phoenix environment is hard on foliage and can take an enormous amount of water to maintain. With Desert Environments' landscaping service, we help you make educated plant and hardscape choices and create landscape designs focused on the ability to thrive in a desert climate.
For landscaping that seamlessly blends in with the surrounding neighborhood and natural setting, partner with us. We are a team of horticulture and landscape professionals who know how to create lush gardens as well as low-maintenance yards.
With more than 25 years serving the Phoenix area, local owner-operator, Mike Kiesler, oversees all aspects of landscape installations. He works closely with the property owners to plan a custom design that fits their vision and functionality. Once a plan is created, Mike manages the construction process from beginning to end.
What's So Special About Our Landscaping Services?
All of our services are warrantied and customer satisfaction is built into all of our projects. We work closely with our customers, keeping an open, consistent line of communication throughout planning and installation. Your project manager asks the right questions upfront so the end result is exactly what you were expecting, or better.
Using high-quality soil supplements, irrigation systems, region-appropriate plant species, ground cover, and other drought-tolerant plants we deliver on our promise to make your private landscape into one that beckons and inspires.
Individual services include:
Desert appropriate landscaping
Desert and tropical plant selection
Low maintenance irrigation systems
Water features and fountains
Plant beds and containers
Select rock and boulder placement
Custom fireplaces and barbecue
Flagstone and decorative masonry
Low voltage lighting systems
Outdoor Kitchens
Enhancing Phoenix Landscapes one Home at a Time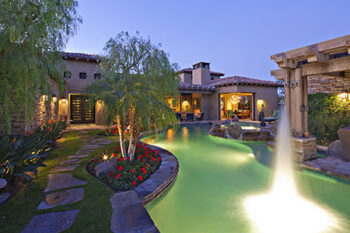 Gaining insight from landscaping professionals is key to planning a great outdoor area. During our consultations, we help our clients think about what they will be using the space for. This is a great way to open up the creative process, think about practical ideas, and start matching your budget with your vision. Some overarching functions of residential landscapes can be:
Lounging – These designs maximize space used for bathing, sitting, and visiting with family and friends. Some opt to install televisions, surround sound systems, and other indoor luxuries and comforts that can be enjoyed outdoors.
Nature-watching – Whether it is the installation of an automatic watering system for your favorite native plant species or desert-focused xeriscaping, we make it beautiful. Talk to us about creating a habitat for native birds and insects. Working with the natural flows of the environment helps to integrate disparate areas such as those for gardening and those for simply sitting and observing.
Entertaining – When space is designed with gathering in mind, people naturally gravitate there. Maximizing standing areas with a distinct focal point such as a fire pit, bar, fountain, or barbecue can help you enjoy company while providing a centralized point for gathering.
Call for a quality landscape contractor in Phoenix and the Greater East Valley area.
We want you to love returning to your outdoor space day after day. Whether you install an outdoor kitchen, a relaxing meditation space with a water feature, or simply increase the beauty and curb appeal of your yard, we deliver landscaping you will enjoy for years to come. Let us create your desert oasis! Call us today for a free consultation!
---