Your
Recommended Desert Landscaping Contractor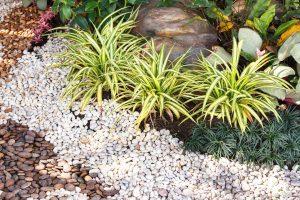 The landscaping contractors at Desert Environments deliver full-service landscaping, from yard design and installation to hardscaping and maintenance. We listen to you, spend time assessing the space, and work with you to accomplish the vision you have in mind.
Our team of designers and landscapers offer straightforward estimates with no hidden fees. We understand that customers want to most for their budget, but may not always know what that means. Our landscapers are happy to listen to your yard design plans and help you get the very most for your money.
Transform your yard into an oasis and keep it looking great with a landscaping contractor you can rely on!
---
Some features our landscaper can install include:
Desert appropriate landscaping
Desert and tropical plant selection
Low maintenance irrigation systems
Focal points like rocks, boulders, & Granite
Select rock and boulder placement
Custom fireplaces and barbecue
Flagstone and decorative masonry
Pools
Rockscapes
---
A Phoenix
Landscape Contractor who Delivers on Quality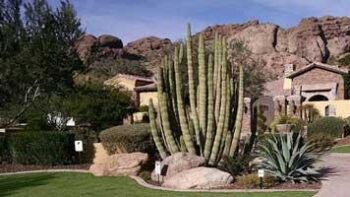 What do you want from your yard? We can build functionality into your landscape design. With the right landscape features, we can create a yard that is an aesthetic extension of your home. Consider entertaining from your outdoor kitchen or built-in wood-fired stove. Maybe you want more lighting and features that create an atmosphere around your pool for enjoying at night.
Whatever you have in mind, we create a 3D design you can review before the work begins. We also strive to make the maintenance as easy as possible, with solutions like irrigation systems and low-water plants.
See why people count on us as the most reliable landscaping company in Phoenix. We offer the following warranties on our work after 30 days, 90 days, and one year, respectively:
Site checks to make sure proper growth and functioning systems.
Monitoring of plants including trees, shrubs, cactus, and turf from the date your project is completed.
Inspection of irrigation systems including valves, main line, emitters, and time clock from the date your project is completed.
Common Landscaping Questions
What is landscaping, and what does it involve?
Landscaping is the process of modifying and improving outdoor spaces, including gardens, lawns, and other outdoor areas. It involves tasks like planting, trimming, and maintaining vegetation, as well as installing hardscaping features like walkways, patios, and outdoor lighting.
How much does landscaping cost?
The cost of landscaping can vary widely depending on the size of the area to be landscaped, the types of plants and materials used, and the complexity of the project.
What are some common landscaping mistakes to avoid?
Some common landscaping mistakes include over-planting, using plants that are not suited to the local climate or soil conditions, failing to plan for drainage issues, and not considering how the landscape will look over time as plants grow and mature. Contact Us Today For A Free Estimate. We can help you avoid these and other common mistakes.
How can I make my landscape more sustainable?
There are many ways to make your landscape more sustainable, including using native plants that require less water and maintenance, installing a rain garden or other water catchment system, using organic or natural fertilizers, and minimizing the use of pesticides and other chemicals. Contact us today we can help you create a sustainable and environmentally-friendly landscape design.
How can I maintain my landscape once it's installed?
Maintaining your landscape involves regular tasks like watering, fertilizing, pruning, and mowing. It's important to keep an eye out for pests and diseases that can damage your plants and to address any issues promptly. Maintenance services can help ensure that your landscape stays healthy and beautiful for years to come.
---
Find a landscape contractor who does it all!
We service all of Phoenix, from the Ahwatukee Foothills to just beyond the Carefree Highway.